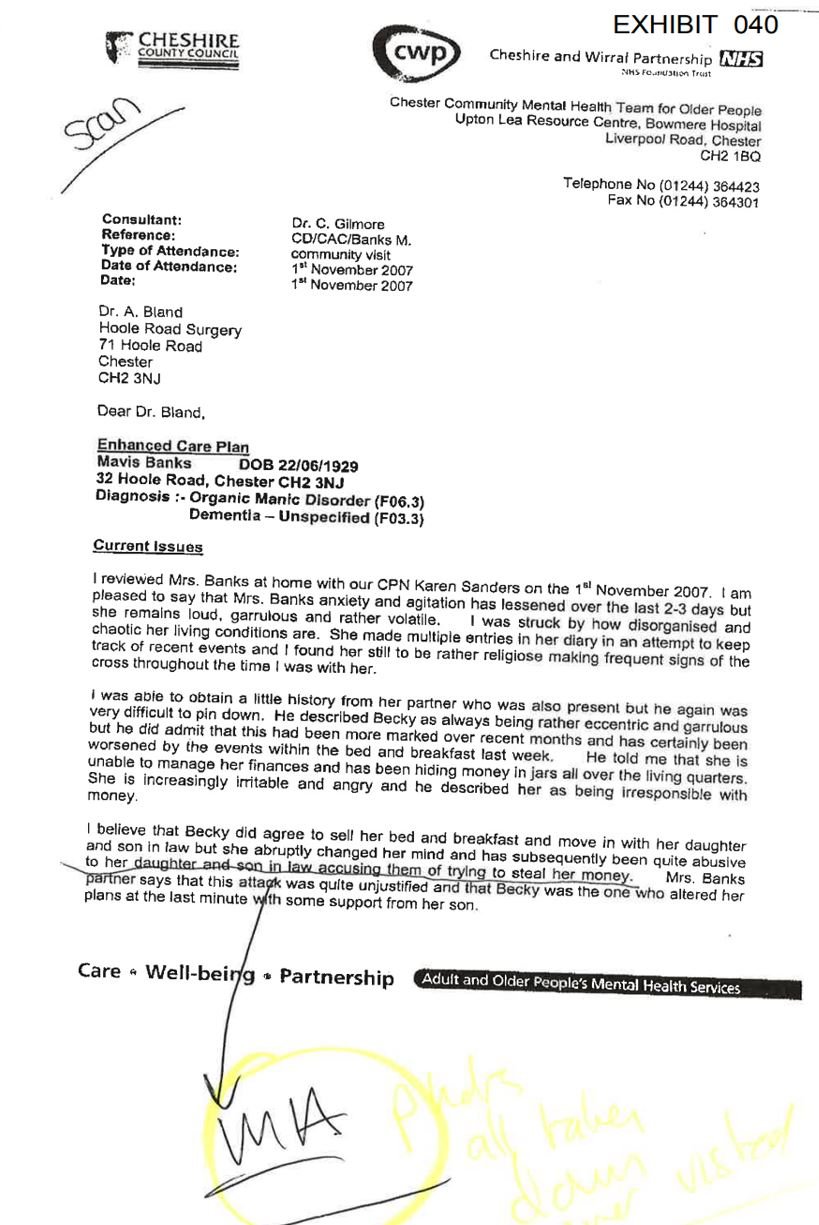 From: Dr Mark Jones FRSM
Parliamentary Candidate
Freeman of the City of London
All correspondences by email,
16/02/2020
Dear Boris Johnson, 
Head of Police complaints
Reader, please tell the SRA, Fraud, Police the following is going on as my mother is one of many and we can prove that.
SRA & Chester police protects lawyer who medical experts say a hit my mother for gain. 
Also 100,000 bill was a lie as it was really 10,000 & lawyers lied to Tax man
Update now Bartlett did not include my mother's Shares worth 100,000? (one share is worth 4k)
Also my mother's Will were deliberately done wrong to rob me.
A group of lawyers protected these lawyers who hit the elderly and rob them of their homes etc}
My lawyer and others have no confidence in Chester police and ask for this now to be investigated outside them. People are at risk 
Exhibits here
http://corruptsolicitors.co.uk/bartlett-as-executor-of-my-mothers-will-lied-to-the-court-saying-100000-care-bills-when-in-fact-it-was-10000-he-even-lied-to-the-tax-man/ 
MA said in court paper and court the following:
He was a police detective from 2007 when the crimes were done to my mother.
That he was the police detective who covered, directed others to investigate any crimes to the vulnerable.
He had the ability to cover up these and other crimes done to the elderly
He then covered up her murder in 2013, 2015 and 2010?
He tried to shut me up by many ways.
He protected others who did crimes against the vulnerable
Witnesses & court appointed experts in court said he was a danger to public safety.
He knew my mother had dementia and was safe with me, but when I was away tried to force her to sell her home by using lies to kid my mother into thinking she had no money.
Later he was listed in medical paperwork as hurting, stealing and scaring my mother.
My sister later said to the court she had forgotten 40k of my mother's money as I found it out
A person then died at my mother's guest house, which also made her scared, and she would not say why.
He was involved in each occasion my mother's home and business was being sold, or her Wills were being changed by Woodside (Bartlett boss of law firm) against my mother's wishes.
Woodside ignored my mother had dementia, and MA knew by law this was the wrong thing to do.
MA knew about the 100,000 care bill Bartlett gave to my mother and put on the tax forms etc. from 2015 was a lie. And the lie was found out in 2018 by my investigation
MA knew about the fraud of 100,000 care bill when in fact 10,000 by Bartlett.
MA knew that my mother's share was not listed in her will and tax form etc.
In court, he wanted this all hidden and 180,000 out of my mother estate when he knew the video shows my mother saying Woodside hit my mother and my mother says the guest house was mine
MA would of known Dr Bland drugged my mother in a nursing home, then when I found out…
He covers up the attempted murder of my mother in 2013 (Experts say this can not be ignored)
MA would of known about my mother being trapped in a nursing home in 2014 by a DOLS based on a lie, and not being allowed out to or visited by people to help my mother.
MA knew my mother was at risk from 2007 onward but stopped all investigation due to self gain.
MA knew about the fraud of 100,000 care bill when in fact 10,000 by Bartlett but was to scared to report this as legal fraud because it would have risked from this alleged will gains. Bartlett did a deal with MA. Bartlett go my mother's home and MA money.
Then when people want to help me about Mr Bartlett, they die like Barbara Dunbavand (BD) (strange death stated by the coroner-see website) and now my half sister's death (VB) who Mr Bartlett said did not want to talk to me but a week before she died she was looking for me with two friends to protect her. My half-sister's death is really strange as …see links.
Then listen to the elderly in fear at the undertakers (see web link: http://corruptsolicitors.co.uk/bartlett-law-fraud-murder-corruption/   )
Many would come forward if they knew they were safe but police also gain by these crimes (MA).
Then the fact my mother's inquest tapes are still not been given to me after many requests. My mother died under a DOLS (law) so her inquest was an Article 2 inquest so public, but the recording will show lies from my sister, police detective N who knows MA and the coroner. There can be no objection to access to these inquest tapes as my sister could have objected but she is now dead. So the only reason is cover up.
The following Police should not be involved, as there would be a conflict of interest in this case. Police Detectives Michael Anklers (MA): Listed in crime paperwork to gain etc. After my mother's murder in 2015, MA then tried and contacted me by twitter after my mother's inquest and then when I tried to re-start the inquest he went to NZ where my daughter was and made sure I knew it (see Files). Many see this as threatening, and he should have known better, but he gains from my mother's Will (by my half-sister VB) and is named in the medical document by my mother as causing her trouble (See Exhibit below). IMPORTANT: MA Went to NZ to show he could attack my child and shut me up. He should not have done this. This can be shown in court.
Police Detective: DS Nomdedeu (N): (also works with kids-link to Dr Bland?) lied under oath at my mother's inquest. The exhibit is the Recording at home before my mother's death where I talk to him for one hour (taped https://vimeo.com/138461044 ) and then at my mother's inquest where he says I only told him the chips were wrong at the nursing home which was a lie and he smiled knowing he was getting away with it.
The Subject Access Request (SAR) shows no investigations occurred on all the occasions I raised alarms of serious issues.
In Dec 2019 Police Detectives Michael Anklers aka MA said in court & in his own court statement, he was from 2007 the police detective who dealt with issues & concerns for valuable in Chester and this included my mother.
He would have known when my mother was nearly murdered in 2013, and I complained to the police. He was the only person who could have shut this up as he gained by it and played a roll in this crime.
Also, he said he tried to
Ma also said in Dec 2019 court that in 2007 when I was away, he decided to get my mother to sell her home…against her wishes…
MA said he was trained to deal with the valuable. As a medical expert pointed out, my mother was valuable.
What is showed was MA knew I looked after my mother when she was ill. There were no plans where my mother would go as my sister never cared for my mother or gave her job up as I did.
The following events are repeated, and the witness saw my mother in great distress.
1 I would go to London. I would leave my mother safe in Chester looking after a full guest house with friends who later on said my mother was, in fact, great distress by MA his wife, and my sister.
2. my mother against her will would be taken to see Woodside, her lawyer who works for Bartlett.
2.1 all of them knew my mother had dementia (see medical notes) & was fearful when I was away
2.2 Woodside, MA, my sister told my mother she had no money and had to sell her home when in fact she had over 70,000 or more in her bank
2.2.1 My sister hide my mother's money and said to the court on many occasions my mother had no money and MA knew this to be a lie
2.2.2 Then when I found one of my mother's bank accounts, my sister had to tell the court she had forgotten 40,0000 of my mother's money.
2.2.3 then when my mother died 60,000 plus more money would appear. And MA knew about this.
2.3 my mother had regular long staying guests who paid on time, but later it tuned out my sister took their money and told my mother she had none (see witness)
2.4 Woodside would change my mother's will, so my sister would get half when she had not put any money or gave up a job to look after her own mother. And had no plan to look after my mother into old age.
2.5 MA and his wife (in court statement) tried to find a buyer for my mother's home cheap by someone they knew. A constant theme was undervaluing my mother's home, which was also her B & B.
2.6 That on the sale of my mother's home when I was away, they would put this money into a home for my sister and then dump my mother in a nursing home.
2.7 By blackmailing the Doctor Bland who was struck off in 2018 as a pedo, who ran a nursing home, mother would cost nothing, and they would get it all.
2.7.1 When the Doctor Bland was found to be clinical negligence for a considerable sum, my sister did nothing as he had helped her. MA once again did not investigate.
2.8 The above had been done to other elderly.
3. Also, I was building a wet room to permanently look after my mother in her home and guest house she loved….but hen MA and sister could not get any money out of it if this happened.
4 In 2010 the same trick was done…
4.1 I was away from Chester in London.
another time when her will was changed by Woodside and my sister tried to sell my mother's home in her own name (See Exhibit)
4.2 But it went wrong they hit my mother said my mother on video, and she woke up in hospital saying she was hit over and over again.
4.3 MA was never there near my mother from 2010 till her death.
4.4 my mother nearly died in hospital by hospital accursed infection, which made no sense as no one else had this issue. But later on, we found that MA sister was a nurse who worked there.
4.5 then my sister and MA would only have my mother in the nursing home run by Dr Bland.
4.6 I found out my mother was being drugged in 2013 and wanted to remove Bartlett and Woodside and remove sister from the will
4.7 My mother was nearly murdered.
More at this link
http://corruptsolicitors.co.uk/corrupt-solicitors-chester/bartletts-solicitors-chester/
Then they tried to kill my mother by not giving her care when she had a fit (that could kill her) and saying an ambulance was on its way at Oakland nursing home in 2013. But this was a lie, so I called the ambulance, and they found no correct care given. The good ambulance crew were shocked with no medication given to my mother (was in massive pain), and they wanted to take my mother to the hospital when C stopped them by a DNR (do-not-resuscitate order) which was incorrect. The ambulance crew saw too much was wrong, so my mother was taken to the hospital. But the police did nothing! (AS MA knew he would be named).
The DNR had Dr B and my half-sister name (MA son in law) on it who gained by my mother's death. (See also Clinical negligence which was worth a significant amount of money but the half-sister did not want to retake action ts a Dr who had helped her and MA in a crime. This was pre-2010 before my mother's stroke (cause by them forced to sell her home, and my mother should have been sent to hospital but was not as if mother had gone to hospital I would have come back from London and started to care for my mother as I did in the past and I was building a wet room to help her. I always dropped everything to care for my mother, something my half-sister never did).
And my sister VB would have also gained by Woodside (in his own statements) getting my mother to put her money all into a home for my sister ignoring the fact I had put money into my mother's business of 70,000, dropped jobs and pensions etc
All of the above came up but was ignored in the Dec 2019 court case.
MA asked in court asked for 180,000 from my mother's estate as he laughed. He also had a conversation with the judge about how wonderful it was here he lived.
He knew my mother nearly died in 2013 when it was found out she was being drugged and almost died in pain in a nursing home run by Dr Bland who was done as a pedo in 2018 and was drugging my mother…
Background to Facebook and twitter events.
Someone contacted me about my mother's death.
Then they said I should check out my ex-partners Facebook. They kept bringing it up. I never looked for my ex or MA before
My ex never used Facebook in public mode. My ex was always secretive, so no one could see her.
My ex never used our child photos in Facebook in public.
MA never publicly used Facebook.
Then after being told over and over again, I checked my ex-partner Facebook.
Then I found that MA, who is a Police detective who is showing who he is and who his children are???
See the following
photo date 2016 14 07 (as screengrab) NOTE: at the time all of these were public domain… The black bars were put on by Dr Jones in 2020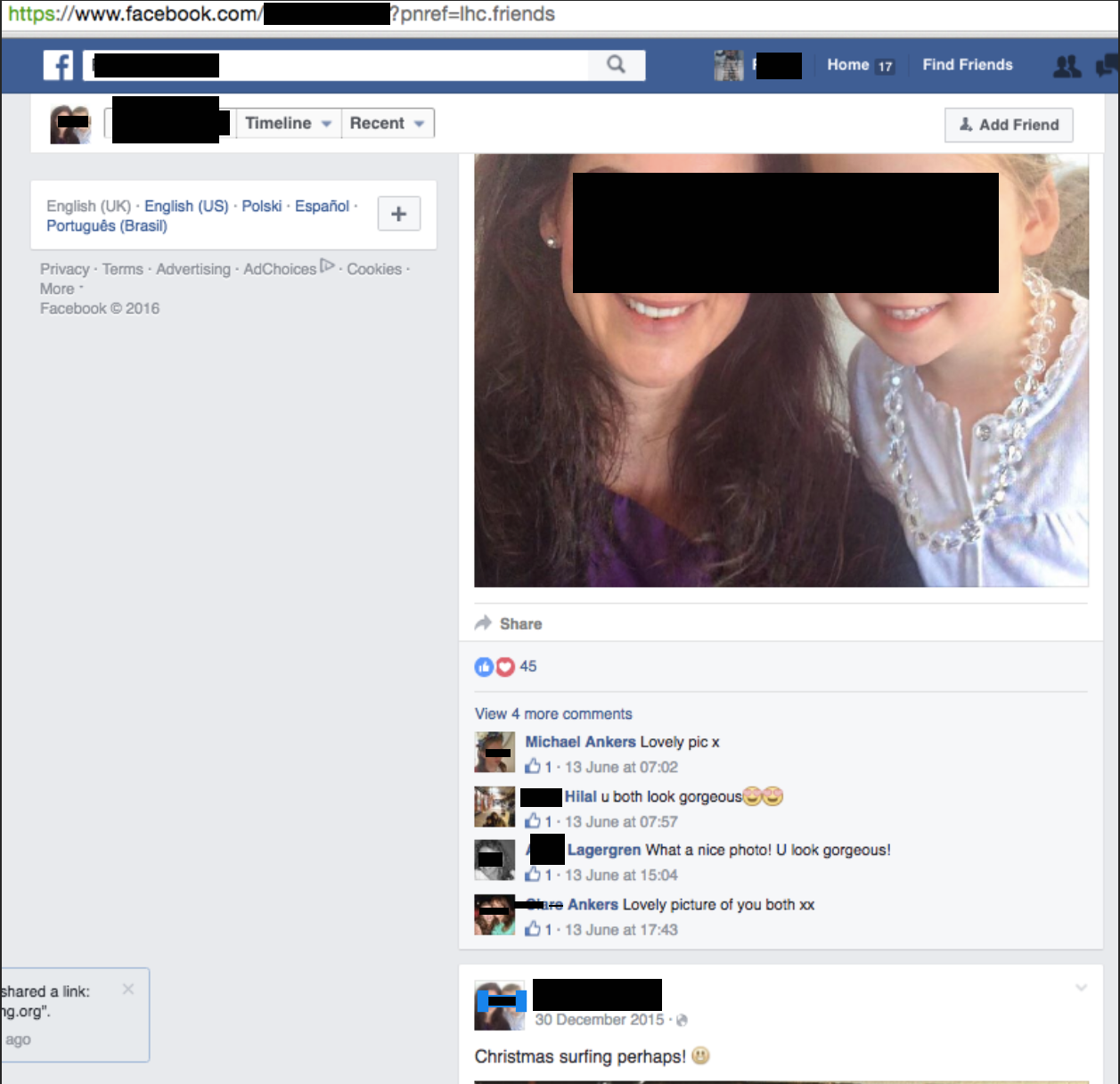 Same date and MA in NZ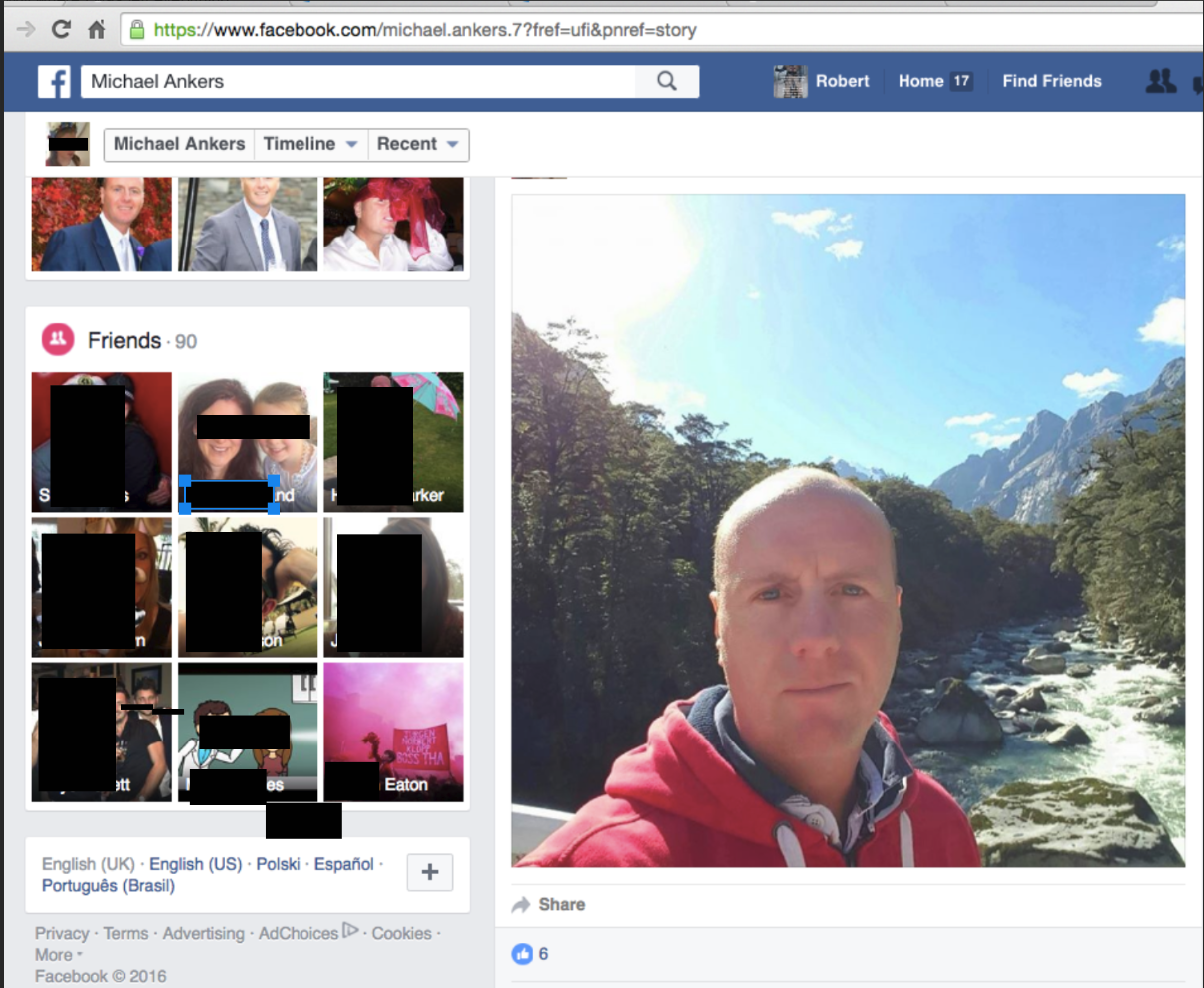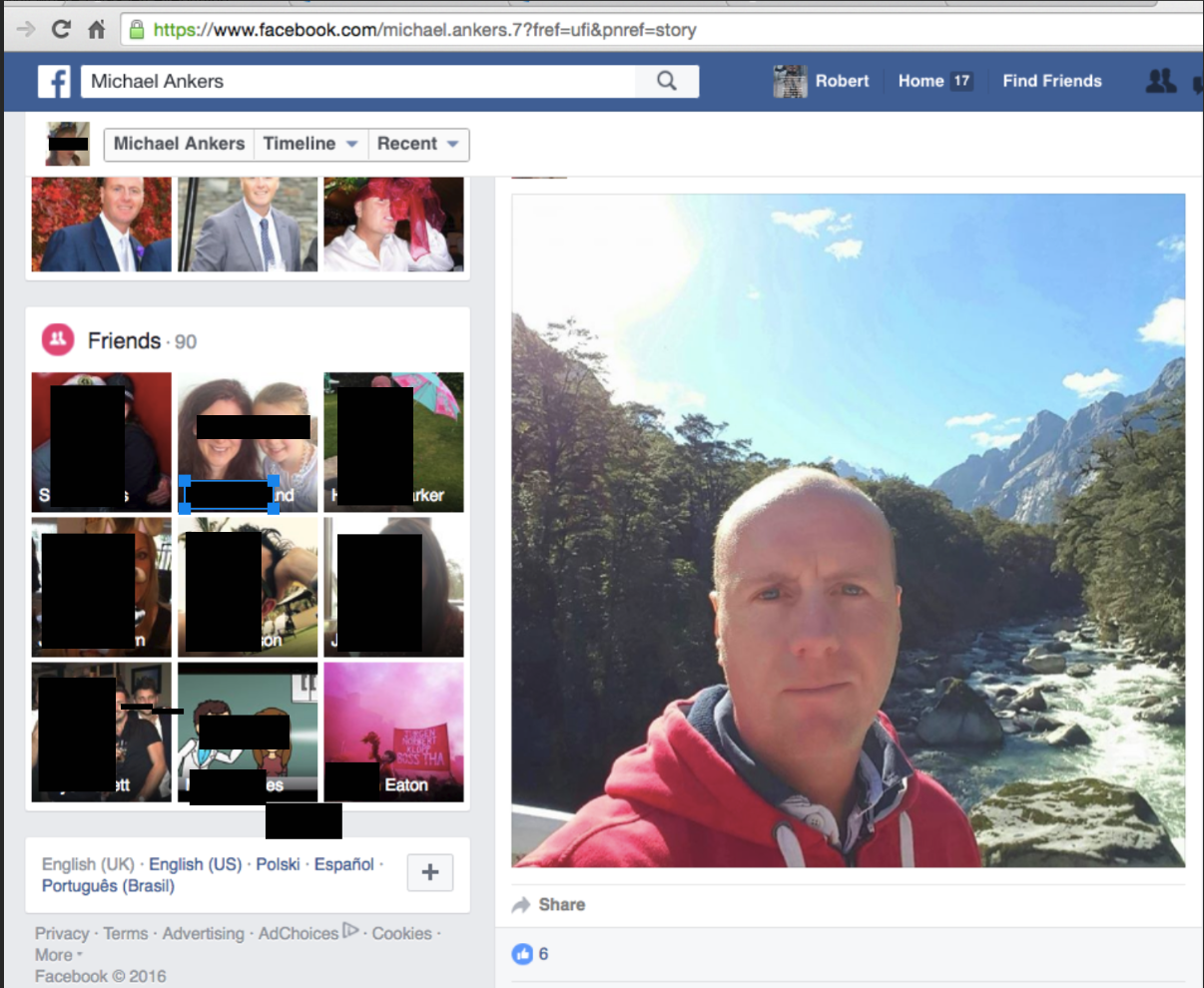 The cover photo is a famous site in NZ Homer tunnel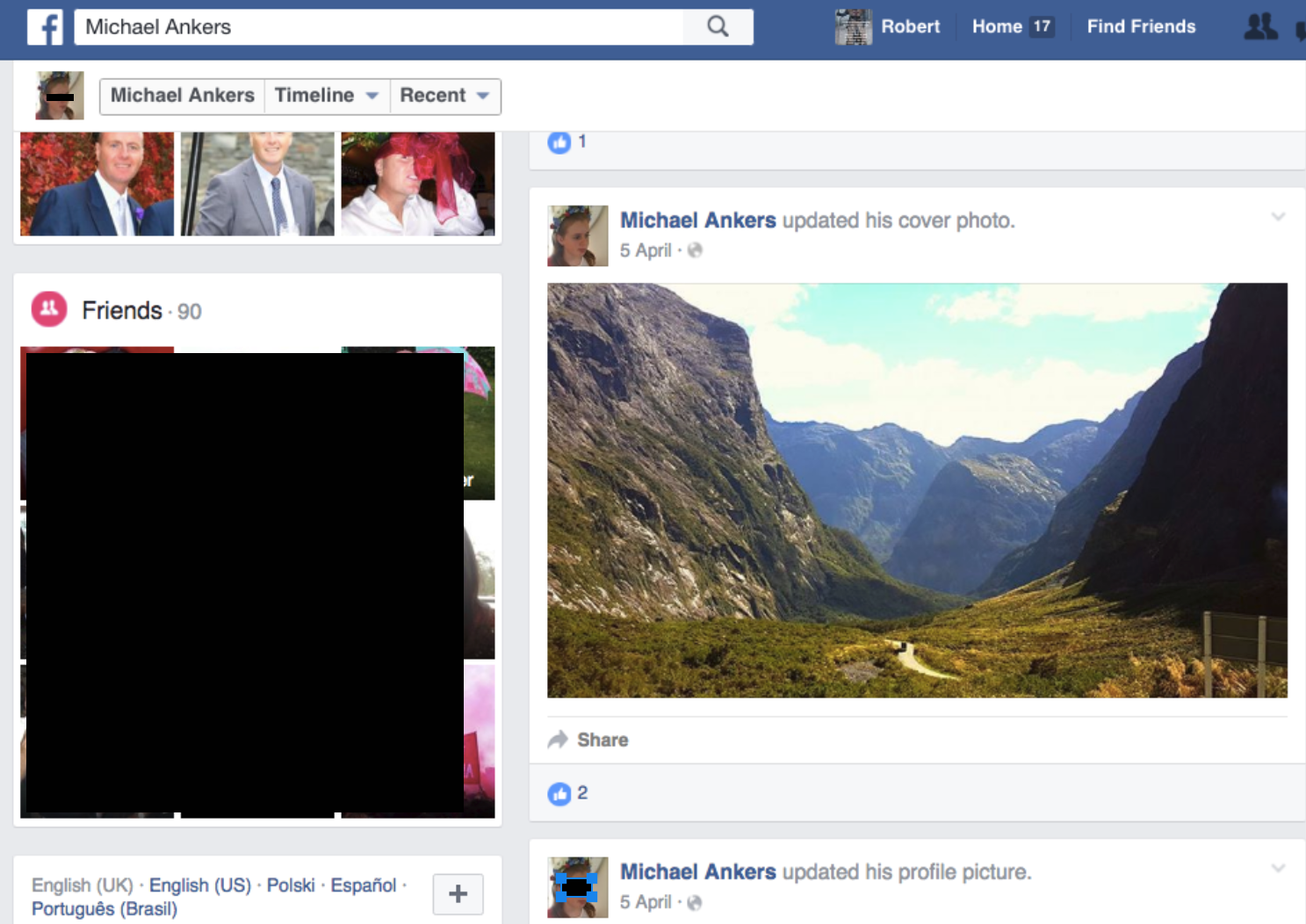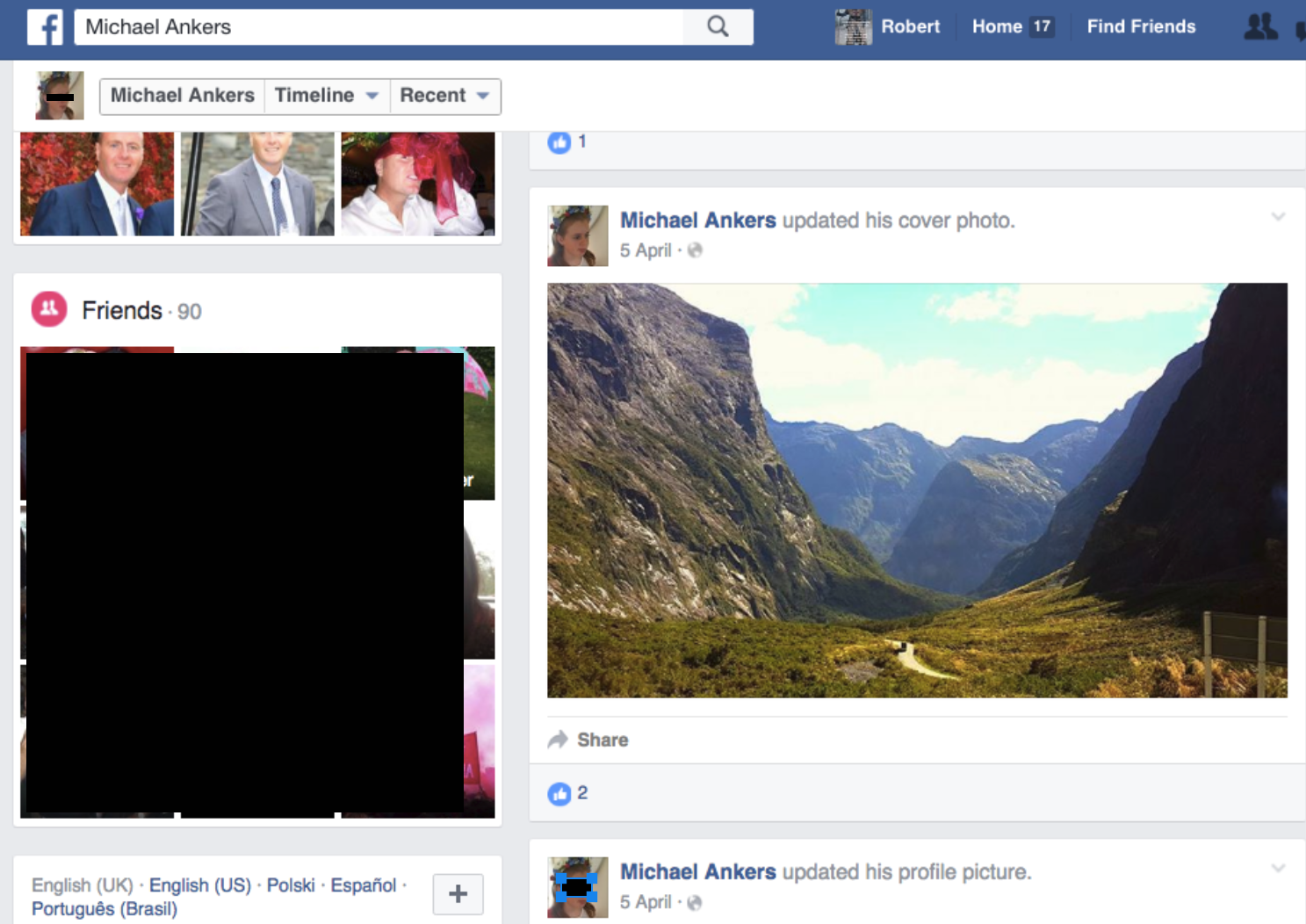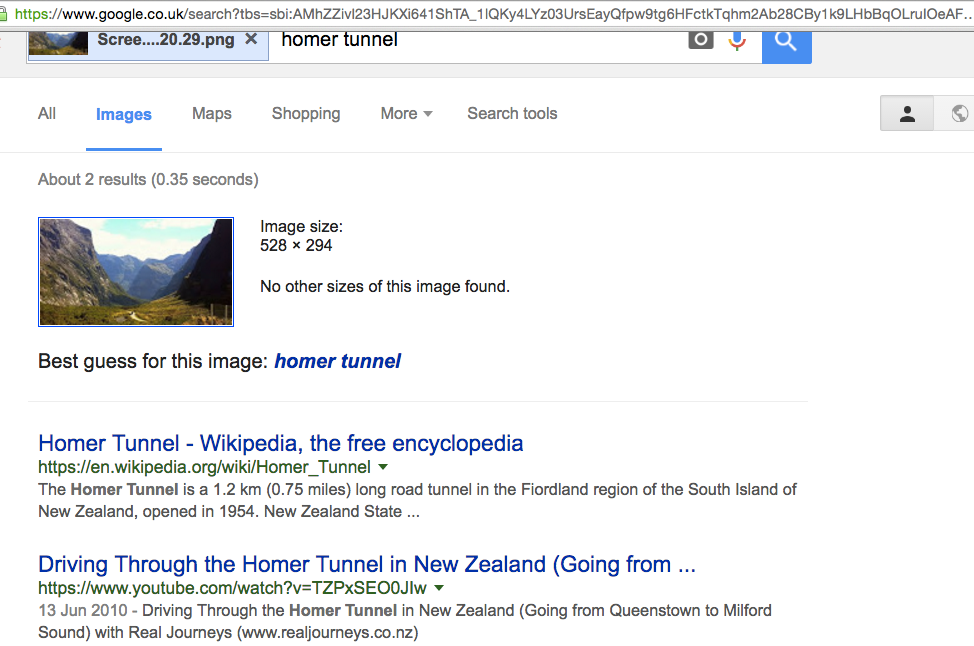 BUT THIS WAS NOT THE FIRST TIME MA CONTACTED ME.  I was saying on Twitter my mother was murdered.
AROUND the same time as MY MOTHER'S INQUEST DATE he started to follow me See SCREEN SHOT 2015-07-26
THEN I BLOCKED HIM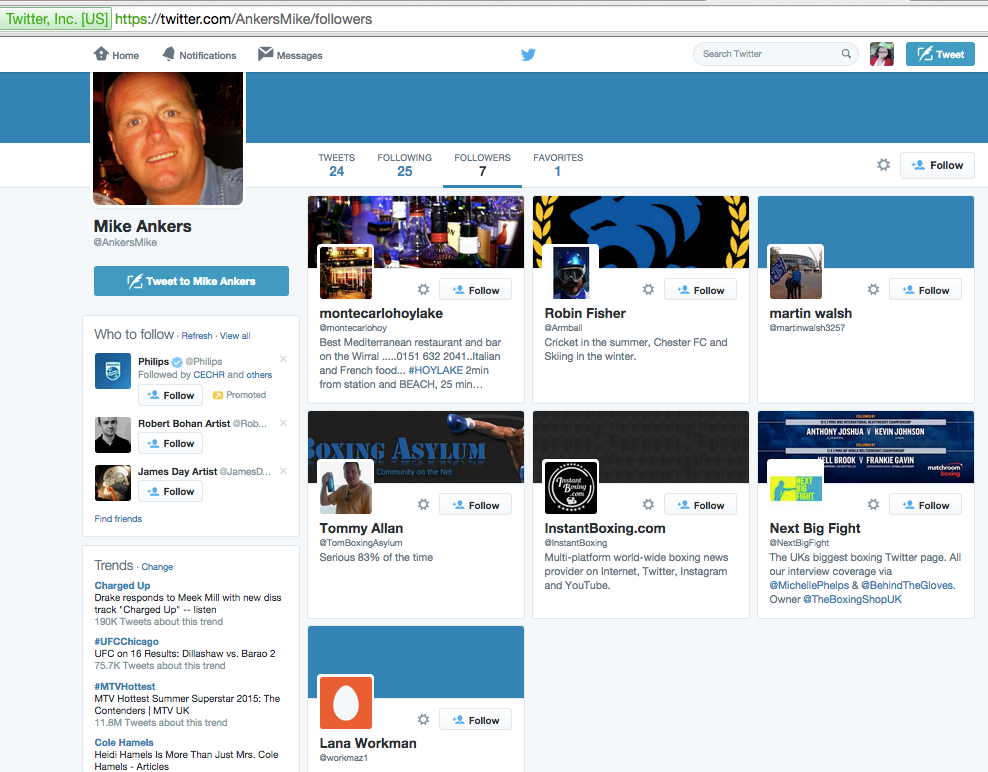 Legal
MA is in Public office. There is a common-law offence of misconduct in public office. A police detective is a holder and has a duty to preserve the Queen's peace, prevent crime and apprehend suspected offenders. Court case Dytham [1979] shows a police constable who deliberately took no action.
MA knew about the near murdering of Mavis Banks in 2013 as it was reported to the police officer who said she knew him.
In the past, he would of known MJ put money of 70,000 into his mother's home but ignored it and tried to sell it when the son was away. Mr Woodside helped him.
He knew in 2010 Mr Woodside changed the Wills when Mavis Banks was being forced to sell her home against her wishes. That it went wrong and the lawyer hit mavis Banks for not doing what they wanted. It can be shown that Vicky B (sister to MJ) and son in law to MB was trying to sell Mavis Banks home in her name and address, so no one knew about this action and was not what Mavis Banks wanted.
Dr Bland in 2010 would have known as all the stress of this was causing Mavis Banks to make her ill. Dr Bland failed to send her to hospital as MA etc. knew this would bring her son MJ from London back to Chester, and look after his mother, finished the wet room he was building and then permanently stay and look after his mother and run the guest house he had put money into.
MA knew they had tried this crime in the past 2007 and other dates, and there were witnesses to this. Every time MJ went away, MA tried to force the sale of his mother guest house.
MA would have known Dr Bland was a pedo who was struck off in 2018 and could of forced Dr Bland to then in 2010 put Mavis Banks in a nursing home he ran and drugged her to not say anything, until 2013 when MJH found this out. Mavis Banks requested to see a lawyer remove Mr Woodside, Bartlett and change her will back to leave her guest house back to her son who had put money and was going to run it for her as he also looked after his mother.
MA knew all the people in the police and the law firms to get what he wanted to allow the cover up and assists in the crimes.
Bartlett knew he could get away with all his actions as MA would protect him.
When MA became Policed detective chief it was clear from the SAR he did nothing to stop the crimes against  Mavis Banks due to self gain
For Bartlett see links here
http://corruptsolicitors.co.uk/bartlett-as-executor-of-my-mothers-will-lied-to-the-court-saying-100000-care-bills-when-in-fact-it-was-10000-he-even-lied-to-the-tax-man/
Note: I did a Subject Access Request (SAR) but it did not show how the coroner monitored my twitters in 2015 and the coroner tried to shut me up about my mother's murder and in the inquest not talked about…
So there must be a file on me which was not given with the SAR
see also
http://corruptsolicitors.co.uk/2020/02/29/sra-part2/
see also
http://corruptsolicitors.co.uk/2020/03/03/inquest-tape-thats-shows-elderly-abuse-murdered-by-bent-lawyers-and-police-for-gain-the-perfect-dr-shipman-team
And this is part of
http://corruptsolicitors.co.uk/tax-file/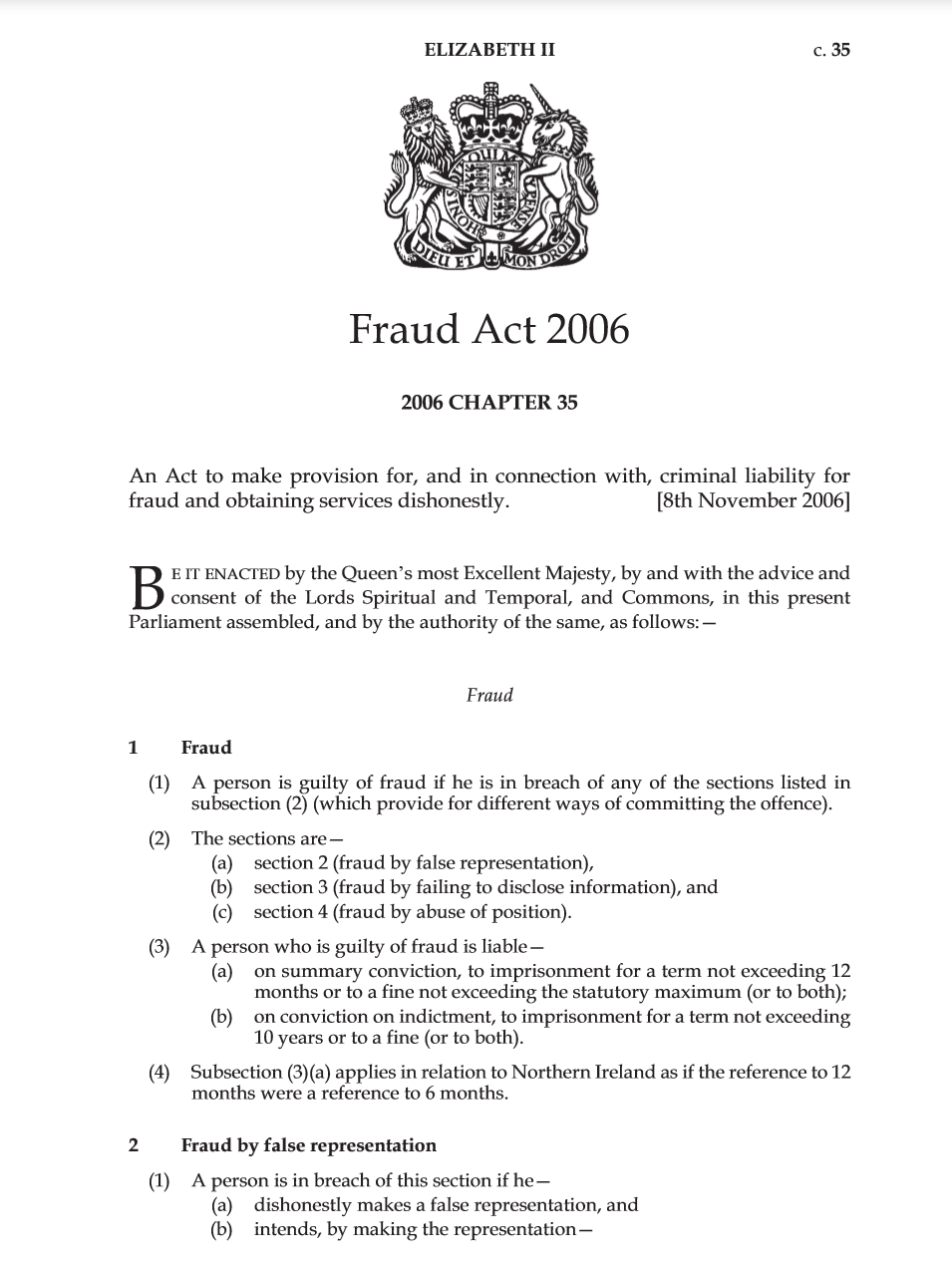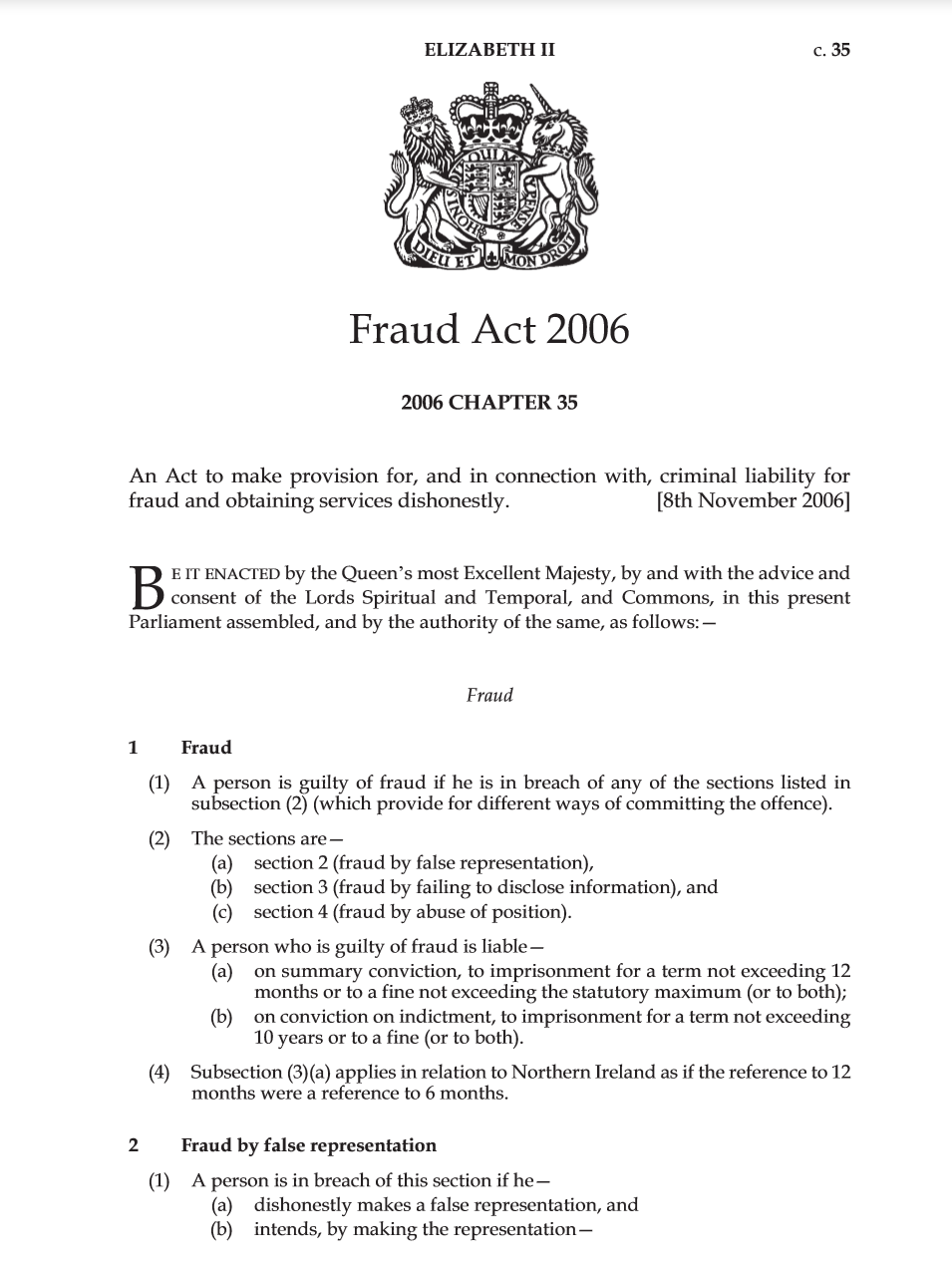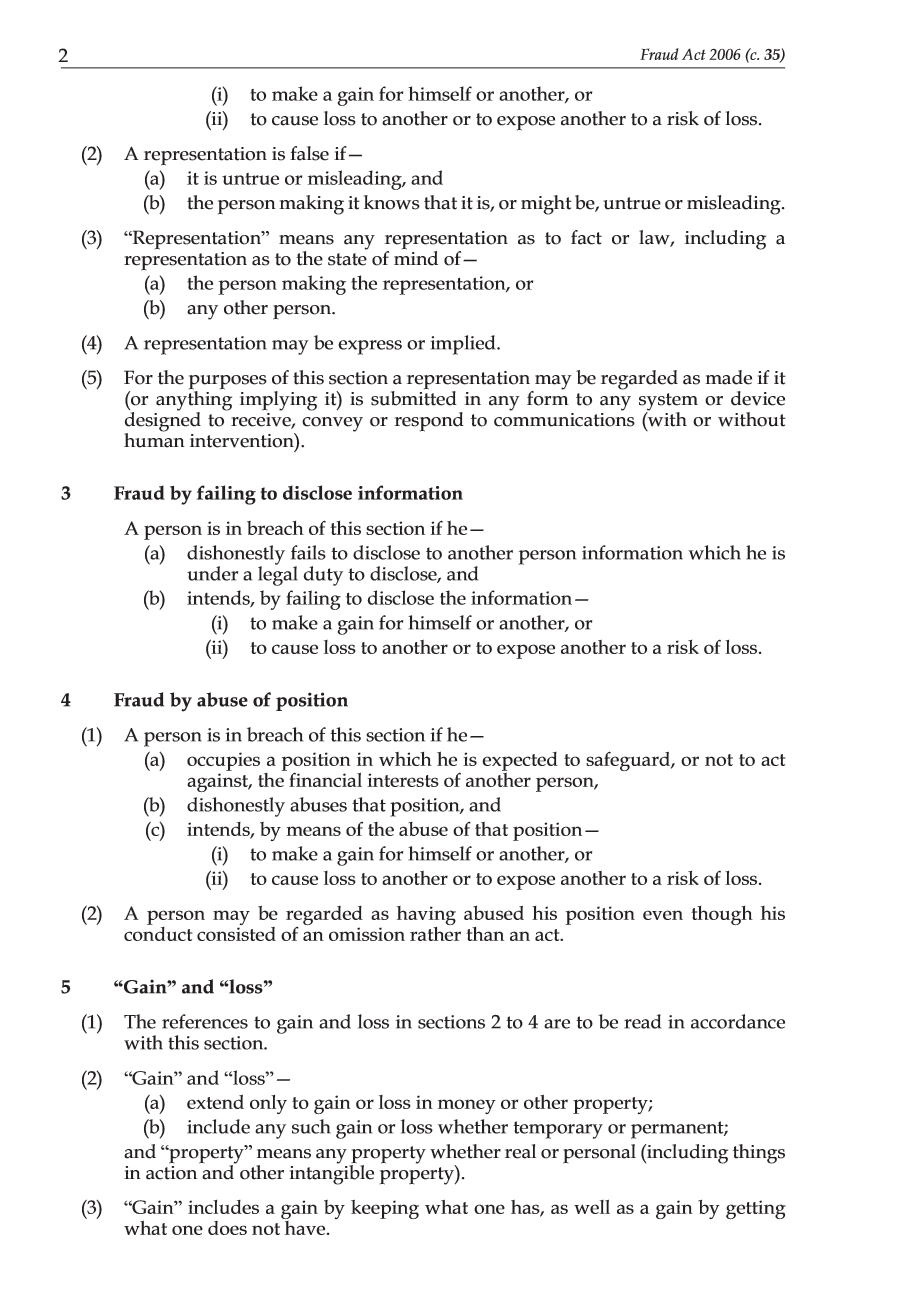 more at
http://www.legislation.gov.uk/ukpga/2006/35/introduction
Update: MA statement in Court 2019 Dec. MA is a police detective in 2007 when he knew my mother had health issues and was helping to sell her home which was also her Bed and Breakfast and I had put significant money and time into. He tried to sell it cheap when i was in the USA (at medical conference). I was being lied to that my mother was being looked after.
The paper work shows this is a trick he would do over and over again each time I was away. He knew I was building a wet room to support my mother and I was going to live with her. If I did this they would never be able to sell her home and business.

Evidence that Police Det MA is listed in medical documents which they tried to hide (See image below).
Then MA assistant had to tell the court they had forgotten £45,000 of my mother's money after 3 years of telling everyone my mother had no money, something which Mr Woodside also told my mother and is on tape! All done to make my mother sell her home to make ther think she had nothing that also caused her to have a stroke.
Mr B wanted my mother's home as he tried to do this to next store (also on tape).
Also from the Court document from Half-sister, Son in law (MA).